United Way of Aroostook Support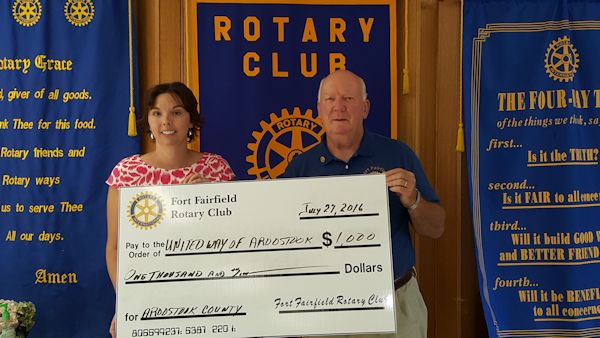 Sherry Locke, Executive Director, United Way of Aroostook accepts a support check from Carl Young, President, Fort Fairfield Rotary Club
Sherry Locke, Executive Director, United Way of Aroostook (UWA) visited a recent meeting and spoke about the many functions and services provided by the UWA. Sherry emphasized the many partner organizations from Houlton to Fort Kent that makes it possible to provide a broad spectrum of services across The County.
Regal Ride on 2016 Rotary Float
Clouds gave way to clear skies and sunshine as Little Miss Fort Fairfield – Chloe White, Pre-Teen Miss Fort Fairfield – Skye Elizabeth Strid, Junior Miss Fort Fairfield – Rachel Marie Milliard, Teen Miss Fort Fairfield – Leigha Ruth Langley, and Miss Fort Fairfield – Alyssa Poitras provided a regal presence on the club's 2016 Maine Potato Blossom Festival float. Offering smiles and waves aplenty, the princesses enjoyed applause from the many parade spectators and recognition as many family and friends called to them along the parade route. Follow the below link for more pictures.
2016 Annual Bike Rodeo
New bikes await new owners
The Maine Potato Blossom Festival is over but memories abound, especially for the club's annual Bike Rodeo participants. During the rodeo youngsters ages 2 through 12 are given bike safety instruction by Officer Jim Cerrato, ride the riding skills course, receive a free new helmet, are eligible to win a free new bike, get to ride with police escort down Main Street, and receive a free hotdog/French fries/soda lunch. This year's bike winners were Trey Zetterman (ages 2-5), Jack Helstrom (ages 6-8),
and Aydin St. Pierre (ages 9-12).
Special thanks to the Fort Fairfield Police and Fire Departments, Crown Ambulance Service, and Knights of Columbus for their support.
For pictures click on the following link.
2016 Annual Combined Meeting
The Fort Fairfield, Maine, USA and Perth-Andover, New Brunswick, Canada Rotary Clubs recently came together for their Combined Annual Meeting. The clubs have been enjoying this time of Rotarian fellowship for many years. Along with an evening meal enjoyed, each club and Rotary District 7810 Governor-Elect, Ginny Joles, presented member awards and recognitions. In addition to club Rotarians and spouses attending Rotary District 7810 Governor Elect Ginny Joles, Area 1 Assistant Governor (AG) Floyd Rockholt, and Area 1 Past AG Nancy Fletcher also attended.
Preparations are complete