Rotary Spirit Student Award September/October 2023
It's a new school year and Fort Fairfield Rotary Club is happy to announce the September/October 2023 Rotary Spirit Award winners: Brianna Osterblom and Ryan Schlesinger!


Brianna was nominated by Nichole Marino, who noted her independent spirit as a positive role model for her peers and her ability to use her direct communication style effectively in and outside the classroom. Ryan was nominated by Jonna Bouré, who noted his passion for French as shown in his dedication to
classwork and volunteering for younger French students at Fort Fairfield Elementary School.
Congratulations to Brianna and Ryan for showing us your Rotary Spirit for serving others! We appreciate your respect and kindness within the school community and beyond.


Thank you to everyone who has taken the time to submit nominations and share stories of the amazing work performed by these students.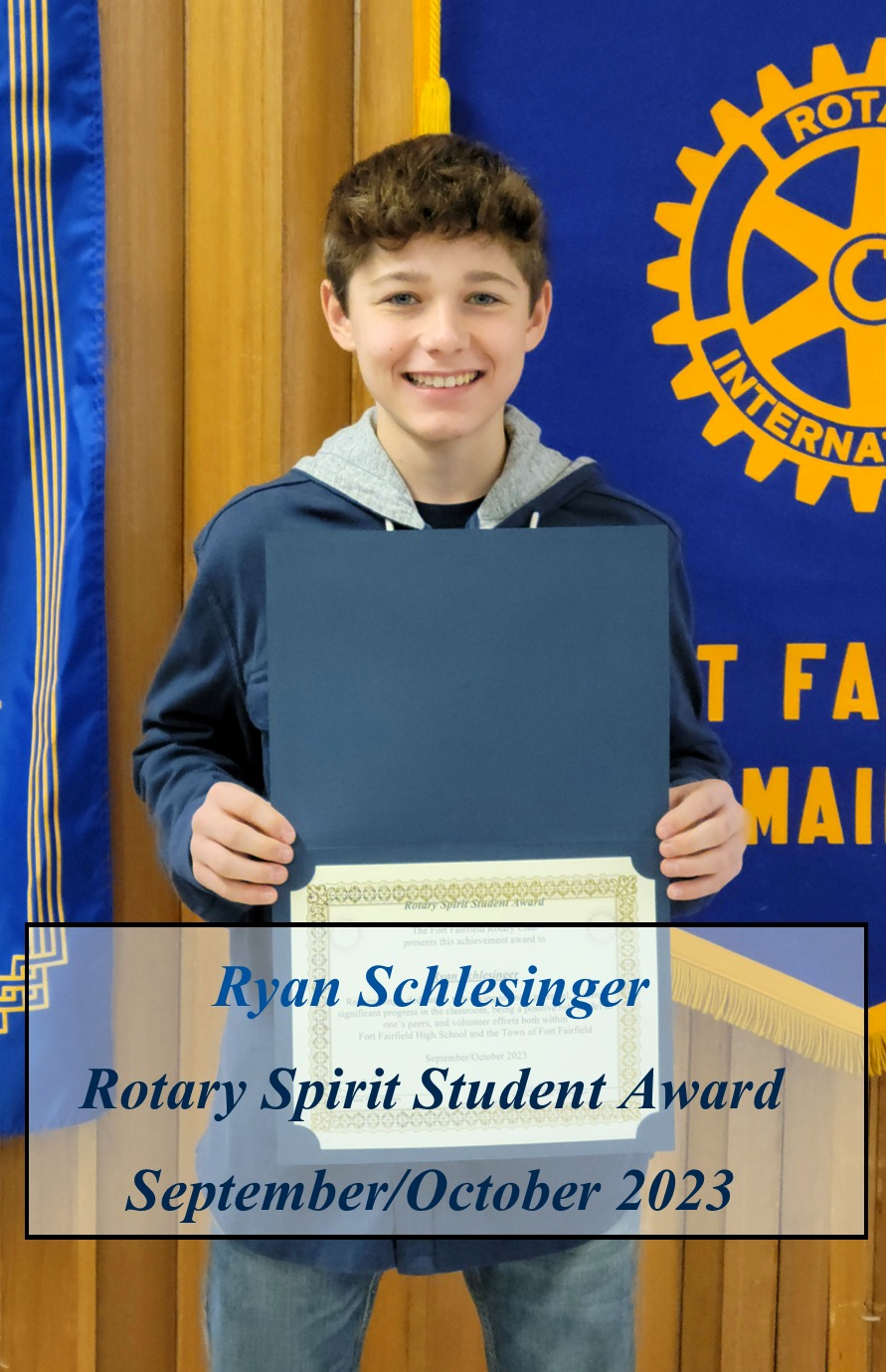 2023 Fort Fairfield + Limestone Rotary Cash Draw Winners
2023 Bike Rodeo
The sun came out just in time for the 2023 Fort Fairfield Rotary Club bike rodeo!

Officer Jim Cerrato (Ret. FFPD) worked with over 20 kids to cover road safety tips, safety inspections, and essential cycling skills on a fun (but challenging!) course. Free bicycle helmets were also provided by the Rotary Club.


Afterward, the attendees made the most of their new skills with a bike parade down to the Knights of Columbus hall for a free hot dog meal. Thank you to
F
ort Fairfield Police Department for providing an escort!

Congratulations to this year's Bike Raffle winners:
Ages 2-5: Nicolas Cote
Ages 6-8: Amiah Craig
Ages 9-12: Kaeden Arbeau

Special thanks to all of the families in attendance and our volunteers. We wish everyone a safe and fun time during the rest of this year's Maine Potato Blossom Festival!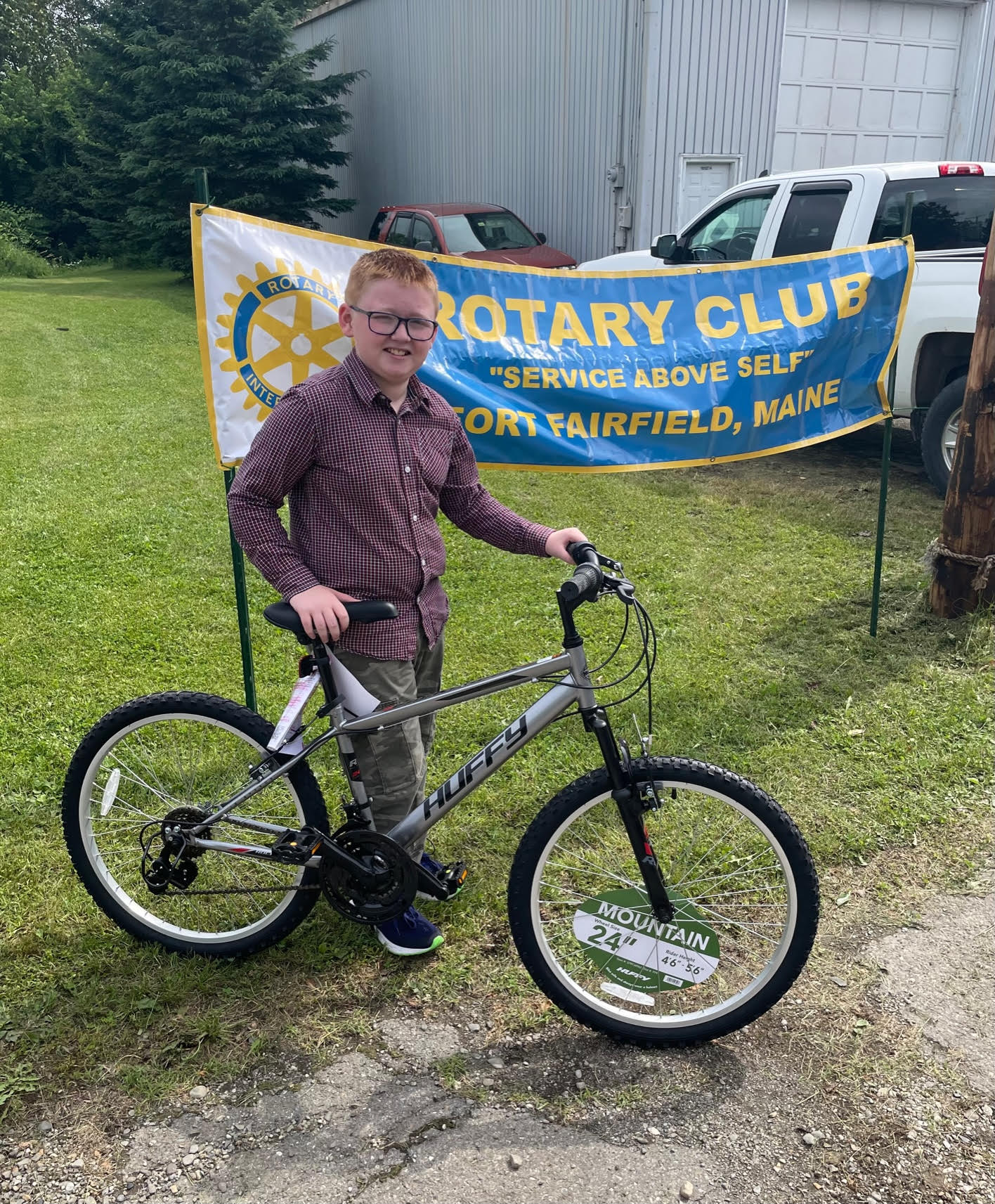 Class of 2023 Scholarship Winners
Congratulations to the Class of 2023 Fort Fairfield Rotary Club scholarship winners: Kassidy Gorneault and Emma Kilcollins!

Each recipient has been awarded with $1000 to support their college journey. Kassidy will be attending the University of New England in Biddeford and will be studying medical biology with a concentration in pre-dental. Emma will be attending Palm Beach Atlantic in West Palm Beach Florida and will be studying pre-med.
2022-23 Rotary Spirit Student of the Year: Rose Reischl
The Fort Fairfield Rotary Club presented Rose Reischl with the 2022-2023 Rotary Spirit Student of the Year Award during tonight's Honors Night, held at Fort Fairfield Middle/High School. This is the program's 12th year! (we're gonna need a bigger plaque!)


The Rotary Spirit Student Award program promotes success in and out of the classroom. For a student to be a well-respected citizen, they must be able to balance many different life areas. They must exemplify outstanding
characteristics both as a student and as a community citizen. The student must be able to handle many different student life aspects while maintaining excellence in the classroom. This award is designed to nominate and select students who promote and take pride in Fort Fairfield High School, the Town of Fort Fairfield, and in themselves.
The Student of the Year winner receives $500 and their name is engraved on the Student of the Year plaque that will be displayed at the school.
Congratulations, Rose! And thank you for serving as a great model of service for your community! We look forward to seeing where the future takes you.